COLO-1864 Electric Powder Coating Oven
Ideal for the metallic part less than L1.6m*W1.4m*H1.8m. The COLO-1864 powder coating oven is used in the production process of powder curing. With inside and outside trolley, it is easy for carry the parts, there is plenty of space for hanging powder coated metal work to cure.
Applications: alloy wheels, bike frames, motorcycle parts, metal boxes, metal furniture such as iron chairs, show racks, iron art decorative parts, such as lamp holders, etc.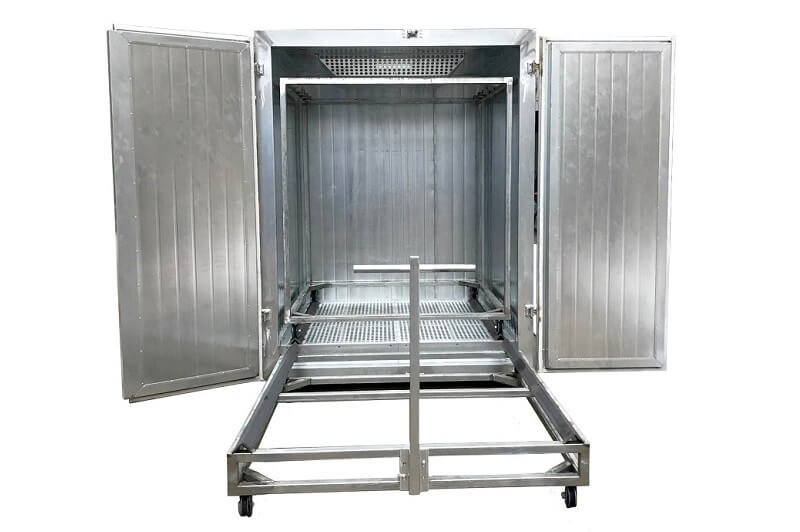 Hot-sale Model COLO-1864 Electric Powder Coating Oven Specifications
| Model | Colo-1864 |
| --- | --- |
| Worksize dimensions | 1600width x 1800 height x 1400 depth |
| Overall dimensions | 1900 width x 2200 height x 1700 depth |
| Power supply | Electric/ 12kw |
| Voltage/Frequency | 380V/220v(50-60hz) |
| Warm-up time | 15-30 min. (180° C) |
| Temperature stability | < ± 3-5°C |
| Temperature max. | 250° C |
| Ventilation performance | 805-1677m3/h |
| Motor power | 0.75kw |
| Circulation/ Air flow | Vertical ,Variable through holes on the walls |
| Transportation | Trolley |
| Warranty | 12 months |
Why our powder coating ovens are better?
1. Our powder coating ovens are designed specially for powder coating, no pollution for parts and environment.
2. We use advanced heating technology that gets the air to temperature faster – which saves you times every day. It uses less fuel, which saves on your operating costs.

3. It uses bolt-together construction that makes for a more solid, more stable device. Our walls are built panels filled with 100mm mineral wool insulation, which helps keep the heat in the powder coating oven and out of your work area.
4. The entire design is built to create optimal airflow throughout the powder coating oven enclosure, preventing hot spots and providing an even, constant cure for your parts.
Electric Powder Coating Oven Working Principle
When a thermoset powder is exposed to elevate temperature, it begins to melt, flows out, and then chemically reacts to form a higher molecular weight polymer in a network-like structure.
Use electric to create the energy, heat the oven chamber rise to a required curing temperature, through the circulating fan, make the hot air spread in the oven to rise uniformly.
Various Standard Models of Powder Coating Ovens for Choice
Model

Working Dimension(mm)

Heating Power

Fan Motor Power

COLO-1515

Width1500

Heght*1500

Depth1500

(4.9' x 4.9' x4.9')

18kw

0.75kw, 1pcs

COLO-1864

Width1600

Heght1800

Depth1400

(5.2' x 4.6' x5.9')

18kw

0.75kw, 1pcs

COLO-1732

Width1650

Heght1700

Depth3200

(5.4' x 5.5' x10.5')


45kw

1.5kw, 1pcs

COLO-1645

Width1500

Heght1650

Depth4500

(4.9' x 5.4' x14.7')


54kw

3kw, 1pcs

Related Powder Coating Equipment

Forced air
Forced air circulation and floor, we can boast a very good temperature uniformity result, our research has shown that the uniformity of air temperature in the furnace of our circuit does not exceed ±3°C! The result is due to our technology of horizontal, and vertical air circulation, the circulation is chosen according to the process. Adjustable peaks on both walls allow to adjust the air supplied and the optimization process, this technology is only used for top furnaces around the world.

Thick insulation 100-150mm
Our walls are built with 1.5mm panels filled with 100-150mm thickness rock wool insulation, which helps keep the heat in the powder coating oven and out of your work area.

Automatic control-simple PLC system
Control provides high precision heating process, it offers all the features you need. The LED display allows you to set the temperature, as well as the duration of heating process at the desired temperature.
COLO is a leading manufacturer and worldwide supplier of industrial powder coating equipment. With over 10 years design and production experience, our products has been recognized by global clients for its reliable quality, great performance and competitive price. We have professional technical team to customize the size and configurations of powder coating oven based on your workparts. The material preparing, bending, welding, assembling all production process is built in house. With benefits of quick heating, excellent effect and long lifespan, our electric/gas/diesel oven gives you a reliable surface finish.