Dual spray station powder painting coating booth

Description
COLO-3212 Spray booth is designed for pass through type powder coating. Parts enter the booth through the conveyor system openings, then pass the coating operator stations to receives the coating.The powder overspray is entrained within the air stream moving to the collector module,where the cartridge filters will remove the particulate.The containment air is drawn throught the air handler's primary and final filter system before being discharged back into the room.Coated parts exit the booth for conveyance to the cure onen.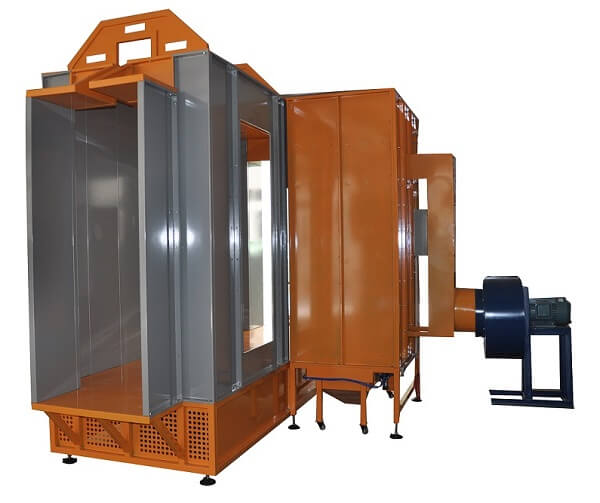 Pass Through Powder Coating Booth Application: long thin products or cylinder shape parts, such as furniture, door & window frames, fire extinguisher, etc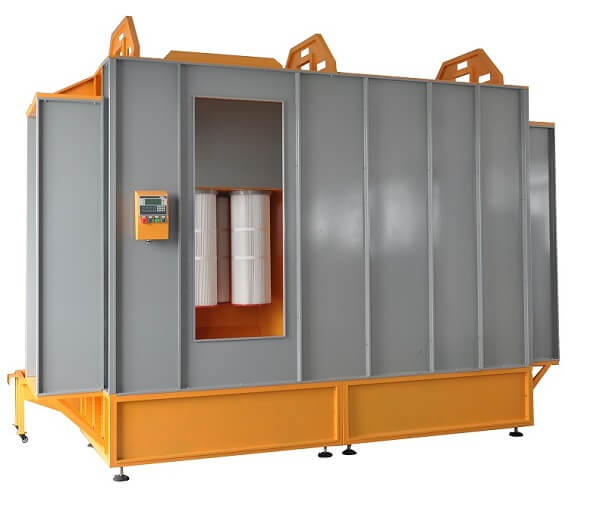 Two door powder coating booth Features
1. Parts are pass thru the spray booth, hang on the overhead conveyor, the conveyor can be made by customer.
2. Two manual powder coating door gates for staff to do coating jobs both sides
3. Four pieces high precision filter cartridges, high powder recovery rate, quick release type for fast color change.
4. The powder spray booth material adopts 1.2mm cold plate with powder coated surface, durable and long lifespan.
5. Simple manual powder coating booth system, easy to connect with manual spray gun and curing oven.
Pass thru powder coating booth specifications.
| | |
| --- | --- |
| Model | COLO-3212 |
| Booth Type | pass thru |
| Working Chamber Size | Width620*Depth2920*Height1500mm |
| Overall Size | Width1200*Depth3000*Height2030mm |
| Certificate | CE |
| Power supply | Electric |
| Application | Powder coating recycle |
| Voltage | 380V |
| Frequency | 50-60Hz |
| Fan Motor Power | 3.5kw |
| Filters | Polyester |
| Filters count | 4 |
| Filters hang type | easy for change |
| Filter cleaning system | Pneumatic |
| Warranty | 12 months |
COLO-3212 Powder coating paint booth components

100% Polyester filters
Colo's booths uses only the highest quality filters made from 100% polyester, they does not sink water, well separates the powder from the air. They can be washed with water under pressure, they provide long-term operation.

Automatic filter cleaning
Colo's cabins are equipped with an electronic automatic filter cleaning system. Booth has a adjusted range of cleaning interval, the time of the impulse, each filter is individually cleaned, filters can also be cleaned manually with buttons.

Fans
In Booths manufactured by Colo we use aluminium fans which are safe, doesn't cause sparks when rubbing by metal elements which in case of using metal fan can cause explode.
Because of their importance to save energy and consume small amounts of current. And they are very quiet, work at the level of 74-79dB. The motor is hidden in the Booth, which makes the Booth lower.

PLC Control unit
Colo's control unit have many program. Different bottom correspondence different function. Control the fan on/off, adjust time range of the pulse to cleaning filters, make the recovery powder hopper up and down.
More details or price of powder coating booth, contact us now!