CL-668 Metal Powder Coating Spray Gun
Advanced coating features such as c-pulse, a coating option that is said to penetrate Faraday cage areas, reading time and material consumption.puts the advanced manual powder coating technology in the palm of your hand. Spray all powder coating materials with ease, coat complex geometries with outstanding efficiency and quality and do it all in the most challenging environments – anywhere on the planet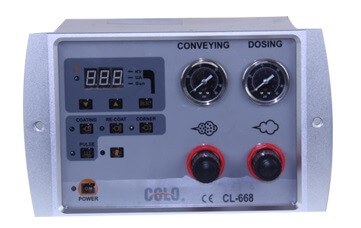 CL-668 Powder Coating Spray Gun Features:
1) Good for flat and complex spaces, any place will be coated efficiently.
2) Deep inside part will be coated well with extension nozzle.
3) Easy operation, reliable and efficient, suitable for both beginners and advanced users.
4) Hopper protects powder from the ambient and gently fluidizes it for an ideal powder delivery.
5) Can choose different hopper for small or big production, or lab use.(Powder capacity: 50lbs, 10lbs, 2lbs, 1lbs)
CL-668 Powder Coating Spray Gun Specifications
Electrical data
Power range
220V/110V
Frequency
50HZ /60HZ
Temperature range in use
-10 ℃+50 ℃
Powder Gun
Gun weight
500G
Rated output voltage
24VDC
Input voltage
- 200kv
Maximum output current
180Ua(max)
Maximum output voltage
0-100KV ( adjustable)
Maximum powder injection
600g/min
Polarity
negative (-)
Pneumatic data
Maximum input-air pressure
10kg/cm
Optimum input-air pressure
6kg/cm
Minimum input-air pressure
4kg/cm
Maximum oil vapor content of compressed air
0.1ppm
Maximum compressed-air consumption
13.2 m3/h