COLO-660T-H Small Powder Coating Machine with 10lbs Fluidizing Hopper
The small powder coating machine with 10 lbs powder hopper, can be used for not large production or lab testing use, small package saving freight charge and easy to carry. The stainless steel powder hopper with fluidizing plate on the bottom ensures continuous and smooth powder conveying. Based on COLO 10 years technology, this machine provides stable and ideal powder coating quality.
COLO-660 Series Powder Coating machine Features
1. Applies the easiest spray method that delivers accurate and uniform powder output, save powders.
2. The easy-structured powder coating machine requires simplest operation and minimal maintenance.
3. Four pre-setting application programs, flat parts coating, corner- coating, repeat coating, pulse-coating, supports for any easy or complex parts.
4. All componenets use high quality materials, such as teflon nozzles and sleeves, the spray gun shell is anti-static.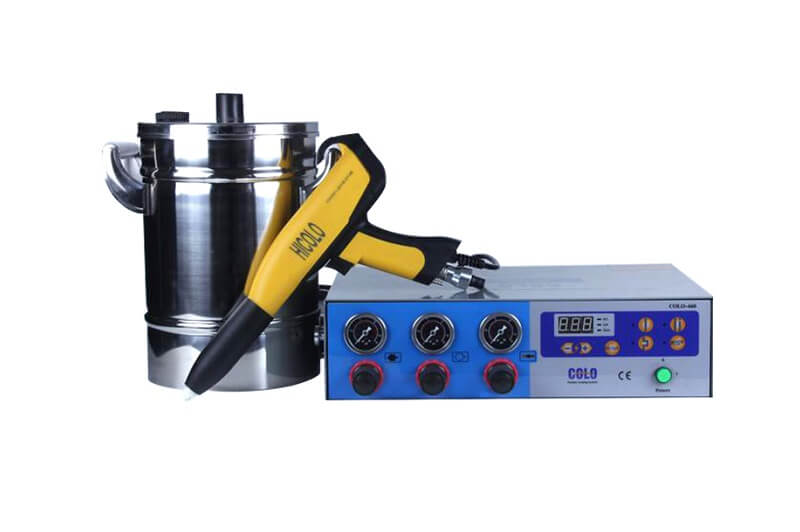 COLO-660T-H Powder Coating Machine Components
Powder gun controller, 10lbs powder hopper, spray gun with cable, round&flat spray nozzles, powder injectors, insert sleeve, air filter, 5m powder hose, all connection pipes and wires, and other necessary parts. You can directly use the machine when you recieve it!
COLO-660T-H Powder Coating Machine Technical Data
Powder Gun

Rated output voltage

24VDC

Cascade input voltage

12V

Maximum output current

180Ua(max)

Maximum output voltage

0-100KV ( adjustable)

Maximum powder injection

600g/min

Polarity

Polarity

Gun weight

500G

Electrical Data

Power range

220V/110V

Frequency

50HZ /60HZ

Temperature range in use

-10 ℃+50 ℃

Pneumatic Data

Maximum input-air pressure

10kg/cm2

Maximum input-air pressure

6kg/cm2

Minimum input-air pressure

4kg/cm2

Maximum water vapor content or compressed air

1.4g/N m3

Maximum oil vapor content of compressed air

0.1ppm