Gas Powder Coating Batch Oven



Our powder coating oven use an energy-efficient design that quickly provides uniform temperatures throughout the oven for even curing. Fully modular design is available in multiple configurations, including rear or side mounted heat unit, top mounted heat unit, tunnel style with double doors or ware openings, etc.
COLO-3210 Gas powder coating oven with dimension 2000 width x 1900 height x 3100 depth is a popular model suitabel for batch production jobs. Fully burning of fuels, gas curing oven inclreases powder coating efficiency and saving energy, which is more environmental-friendly than diesel oven, and more economical than electric oven.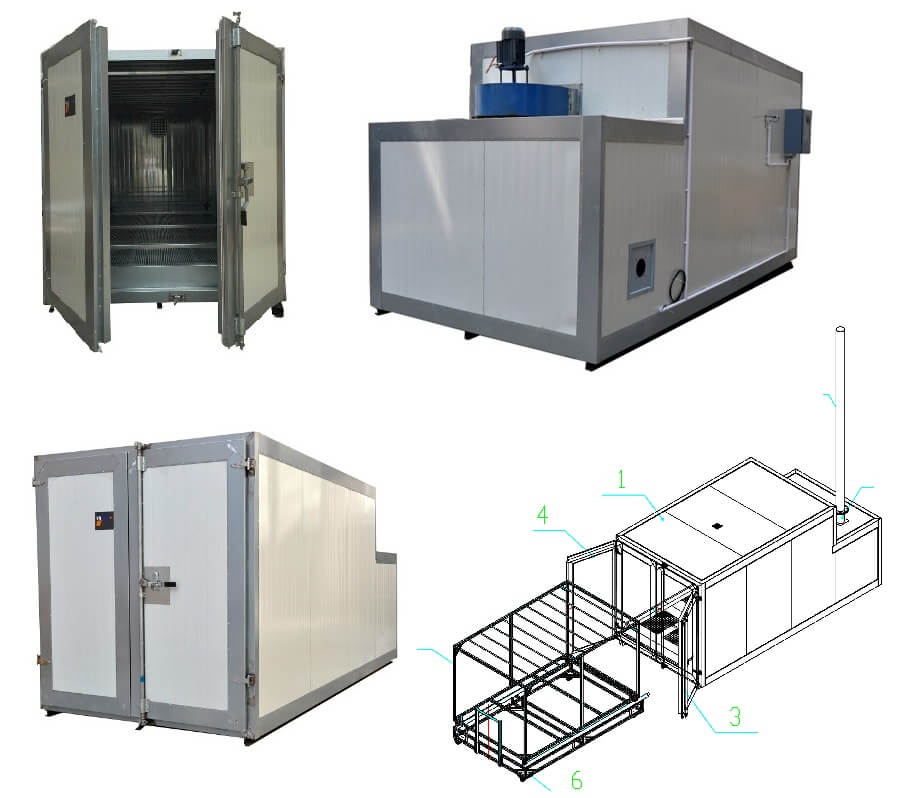 Gas Powder Coating Batch Oven Specifications

| Model | Colo-3210 |
| --- | --- |
| Worksize dimensions | 2000 width x 1900 height x 3100 depth |
| Overall dimensions | 2200 width x 2100 height x 3300 depth |
| Power supply | Gas/LPG |
| Voltage/Frequency | 380V/220v(50-60hz) |
| Warm-up time | 15-30 min. (180° C) |
| Temperature stability | < ± 3-6°C |
| Temperature max. | 250° C |
| Ventilation performance | 8288-16576m3/h |
| Motor power | 1.5kw |
| Circulation/ Air flow | Two stage fire, Italy Riello, 10,0000cal |
| Transportation | two Trolley |
| Warranty | 12 months |
A variety of standard models for choice, custom size and design also available
Model

Working Dimension

(mm)

Buner Power

Fan Motor Power

COLO-0813

Width800

Heght1500

Depth3000

(2.6' x 4.9' x 9.8')

100,000 Cal

3kw

1pcs

COLO-1732

Width1650

Heght1700

Depth3200

(5.4' x 5.5' x 10.5')


100,000 Cal

4kw

1pcs

COLO-3210

Width2000

Heght1900

Depth3100

(6.5' x 6.2' x 10.1')


100,000 Cal

4kw

1pcs

COLO-4772

Width1608

Heght2060

Depth4797

(5.2' x 6.7' x 15.7')


200,000 Cal

5.5kw

1pcs

Heat Exchange
Colo's Heat Exchange are designed for low capacity for long life, possess a large heat dissipation surface, more than 2 times greater than the traditional heat exchange side. The furnace is mounted on a length of more heat, it improves the temperature distribution and reduce the risk of failure. The air is distributed in advance specially calibrated mesh with both the walls and the floor. Heat exchange are installed in the ceiling, thus the width of the space-saving.

Forced air
Forced air circulation and floor, we can boast a very good temperature uniformity result, our research has shown that the uniformity of air temperature in the furnace of our circuit does not exceed ±3°C! The result is due to our technology of horizontal, and vertical air circulation, the circulation is chosen according to the process. Adjustable peaks on both walls allow to adjust the air supplied and the optimization process, this technology is only used for top furnaces around the world.
Thick insulation 100-150mm
Our walls are built with 1.5mm panels filled with 100-150mm thickness rock wool insulation, which helps keep the heat in the powder coating oven and out of your work area. .

Automatic control-simple PLC system
Control provides high precision heating process, it offers all the features you need. The LED display allows you to set the temperature, as well as the duration of heating process at the desired temperature.

Burner
Export into worldwide Italy imported burner.