Manual Powder Coating Machine Description: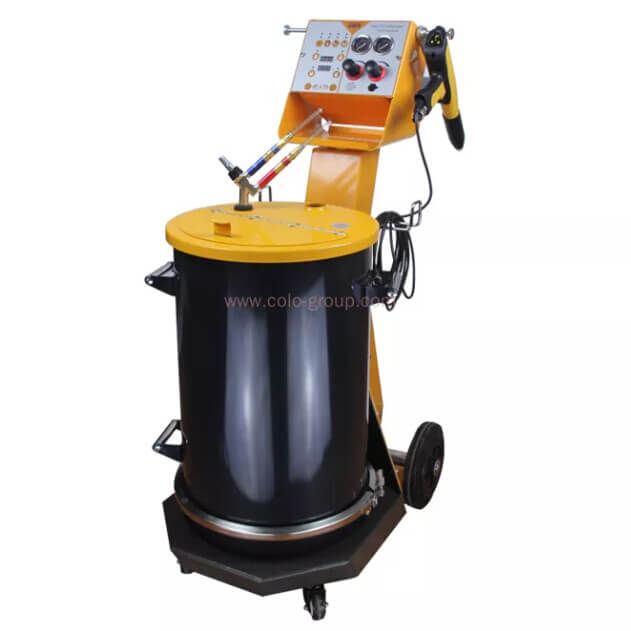 800D Series Features and Specifications:
0-100kV Digital Adjustable, Fully Adjustable Amperage
With three setting program, for flat shape workpiece, complicated shape workpiece, recoating application, easy for operation.
Fully Adjustable Air for Pump on Pressure, Dosage and Nozzle Rinsing Air.
Comes with Full Array of Nozzle Assortment, including flat spray nozzle, round nozzles with different size deflectors.
Field tested and proven to operate in the toughest environments.
Comes with different array of delivery systems:
Hope Feed - 55L (other size hopper also could availbale)
Box Feed - for fast color change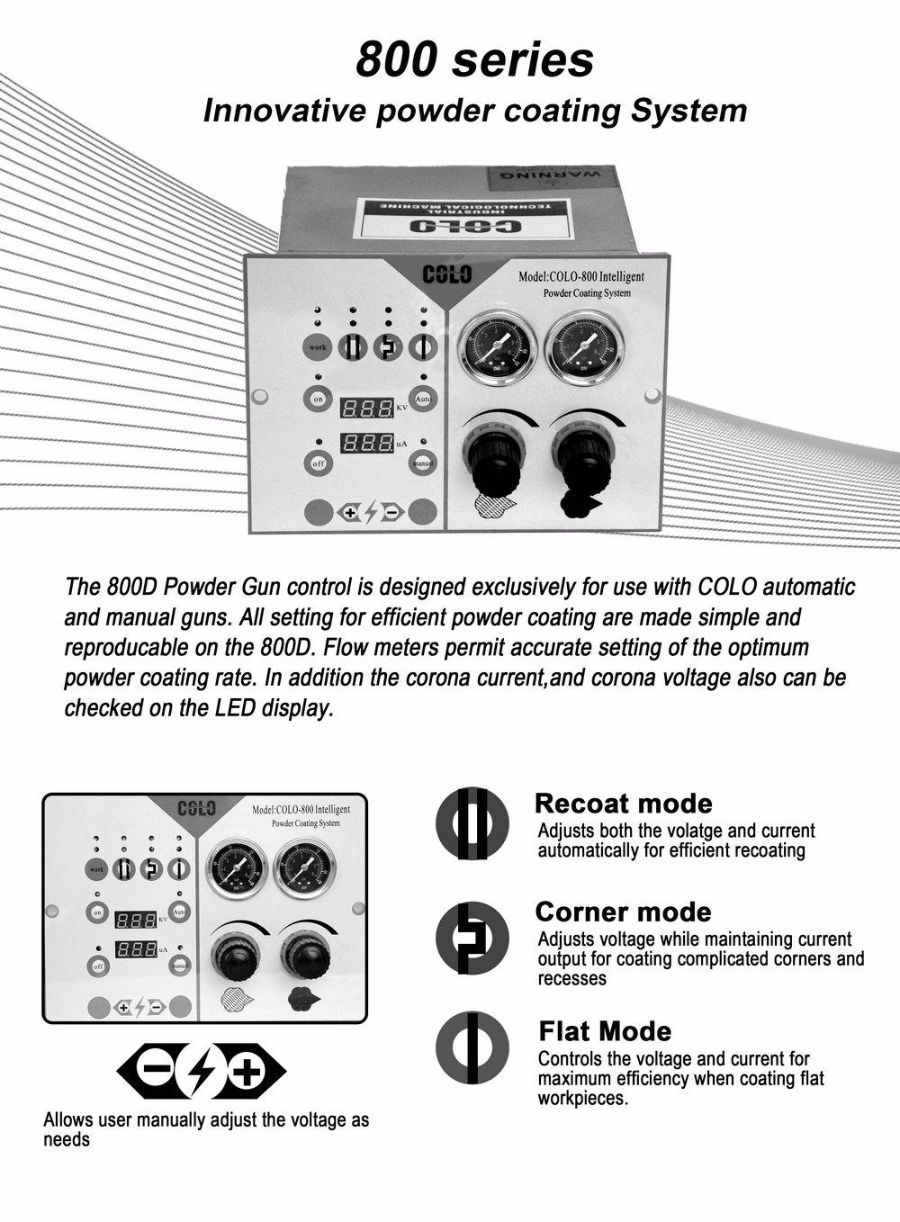 COLO-800D Powder Coating Machine Operation Video
Powder Coating Machine

Electrical Data



Power Range

220V/110V

Frequency

50HZ/60HZ

Temperature range in use

-10 ℃+50 ℃

Powder Gun

Gun weight

500G

Rated output voltage

24VDC

Input voltage

- 200kv

Maximum output current

180Ua(max

Maximum output voltage

0-100KV (adjustable)

Maximum powder injection

480g/min

Polarity

negative (-)

Pneumatic Data

Maximum input-air pressure

10kg/cm

Optimum input-air pressure

6kg/cm

Minimum input-air pressure

4kg/cm

Maximum oil vapor content of compressed air

1.4g/N m3

Maximum compressed-air consumption

13.2 m3/h

Dimensions

Width

690mm

Depth

800mm

Height

1135mm

Weight

45kgs


What's included in the
powder coating machine packages?
Complete 800D Powder Coating System with gun, controller, hopper (box feed model have no hopper) ,stand, hoses, cables, and connectors.
Assembly and Operation Manual and Video in English
1 Year Warranty

Every 800D powder coating system is by a full 1 year factory warranty. Should your system ever fail to operate, just call us, will resolve and make powder coating machine running fast.
COLO-800 Series All Related Powder Coating Equipment for different applictaion
Contact us for your powder coating solution!