Manual Powder Coating Equipment Package
Including powder coating gun, powder spray booth and curing oven, this manual powder coating equipment package is an affordable and simple solution for batch production of small to medium sized products, such as car wheels, bicycle frames, motorcycle parts, furniture(chairs, shoe racks, cabins), iron art parts(lamp shade, candle holder, decorative products) and all other metal pieces.
Suitable for simple manual powder coating start business, or replace old ones to improve application quality.
---
COLO-191S Powder Coating Spray Gun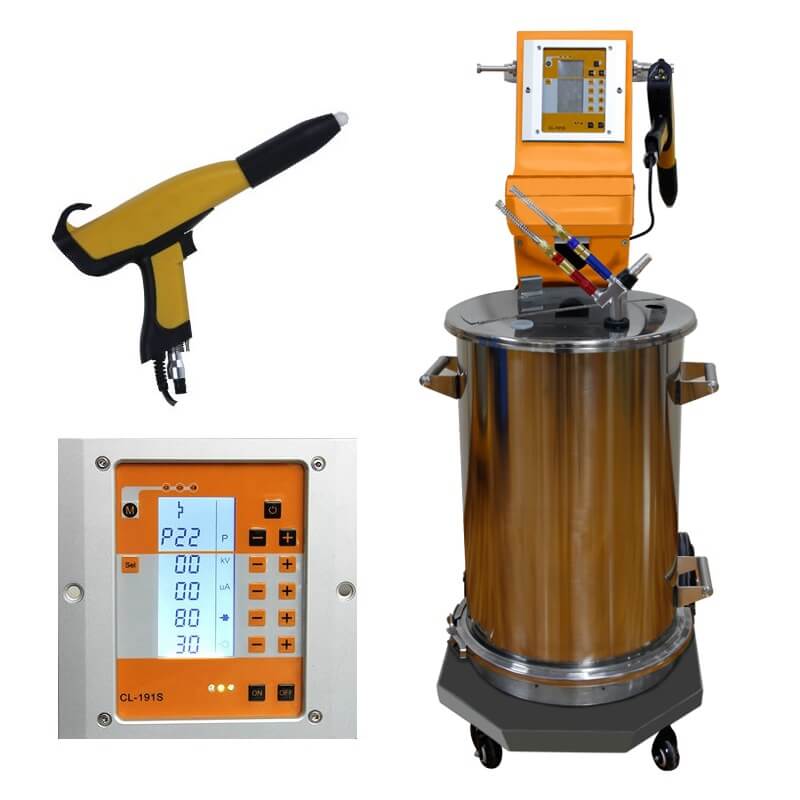 All digital display & settings offering precise powder output, leads to eays penetration of corners and great save of powders, meets the challenge to coat even most complex parts
Powder Coating Gun Features
1. CL-191S offers 3 pre-set standard application programs for flat parts, profiles and re-coating .It is very simple to operate for a beginners.
2. Allows advanced users to create and store personalized application programs optimal for their parts and powders. Each part can be coated always with its ideal settings. Up to 20 coating programes can be stored in the control unit.
3. A clear and easy to use LCD interface facilitate every user to take advantage ofthese powerful technologies.
Two models for choice
Fluidizing hopper type: Can hold 60lbs powders, suitable for single color application.
Box feed Type: Direct put the powder box on the trolley, suitable for many powder color application, it is fast for color change.
---
COLO-1517Powder Coating Booth
The CL-1517 powder booth is convenient to use with manual powder coating machine and curing oven, suitable for batch production of small to medium sized parts. Based on COLO technology, It is an universal and economic powder recovery system.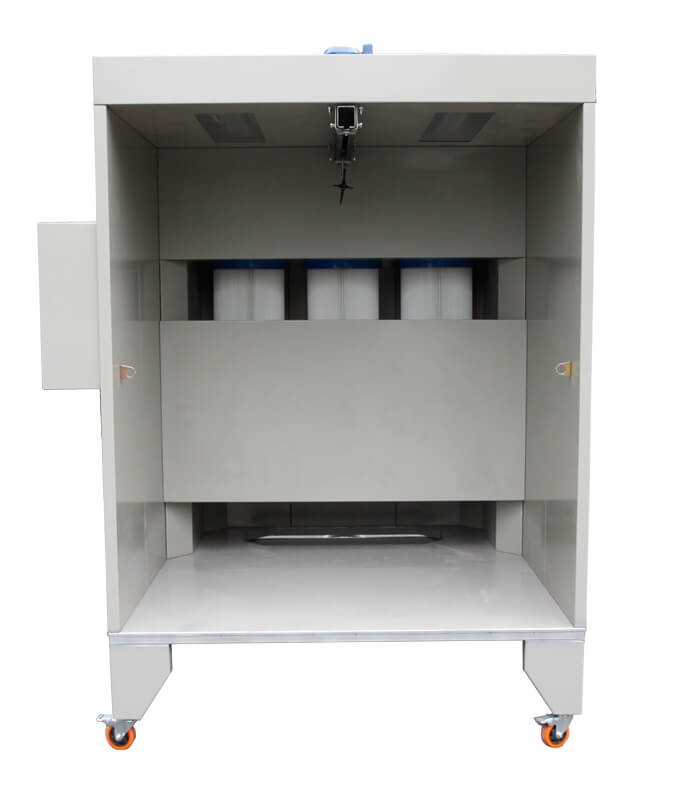 Manual Powder Coating Booth Features
1. Comes with 3 pcs of cartridge filter and 4kw extraction fan motor powerfully capture oversprayed powders, reach to 98% powder recycle rate
2. The quick-release type filter prevents accumulation of the powder and makes it very easy for cleaning and fast color change.
3. Compact Modular design, PLC controllor with emergency stop switch ensures stable and stable working.
4. Durable, long-life powder-coated steel structure with high-quality galvanized canopy and floor


COLO-1517 Powder Spray Booth Specifications

Power Supply

AC 380V (can be customized)

Frequency

50-60 HZ

Power Consumption

2.2K

W

Air Comsumption

40003m3/h

Filters

Polyester

Filter Count

3(325*900mm)

Filter Cleaning System

pneumatic

Machine Weight

400kg

Operation Szie

Width1500*Depth1500*Height1700mm
---
COLO-1864 Powder Coating Oven
Our curing ovens are designed specially for powder coating, When a thermoset powder is exposed to required temperature, it begins to melt, flows out, and then chemically reacts to form a higher molecular weight polymer in a network-like structure.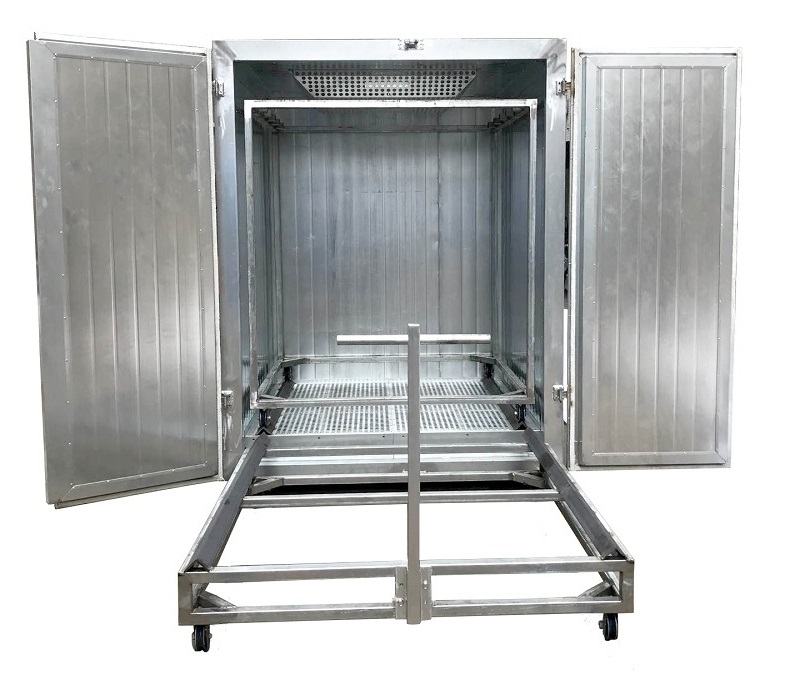 Powder Coating Oven Features
1. Electric heating source powder coating oven, environmetal friendly and easy operated
2. Rapidly raise to the required temperature, save your time every day.
Uniform heat distribution in inner chamber by circulation fan motor
3. 100mm thickness rock wool board of the interlayer, keep long time heat preservation.
4. PLC panel control the working of fan, setting the heating time and temperature
COLO-1864 Powder Coating Oven Specifications

Worksize dimensions

1600width x 1800 height x 1400 depth

Overall dimensions

1900 width x 2200 height x 1700 depth

Power supply

Electric/ 12kw

Voltage/Frequency

380V/220v(50-60hz)

Warm-up time

15-30 min. (180° C)

Temperature stability

< ± 3-5°C

Temperature max.

250° C

Ventilation performance

805-1677m3/h

Motor power

0.75kw

Circulation/ Air flow

Vertical ,Variable through holes on the walls

Transportation

Trolley

Warranty

12 months
Size and special requirements can be customized based on actual powder coating products.
Related Powder Coating Equipment
| | | |
| --- | --- | --- |
| Batch Powder Coating Booth | Gas/diesel Powder Coating Oven | Box Feed Powder Coating Gun |