COLO-0813 Gas Fired Powder Coating Curing Oven
Gas powder coating curing oven is designed for saving energy expense by replacing of electric oven, what' s more it is more durable and has longer lifespan.
COLO gas powder coating oven features quick rising of temperature and uniform heat distribution, ensures effective and perfect curing quality. By using 100mm thickness rock wool isolation board, the gas oven ideally preserves the required heat, making temperature stability less than 3 degree. Our powder curing oven is designed for "batch" powder curing, also can be used as a Dry-Off oven, safely drying and pre-heating substrate.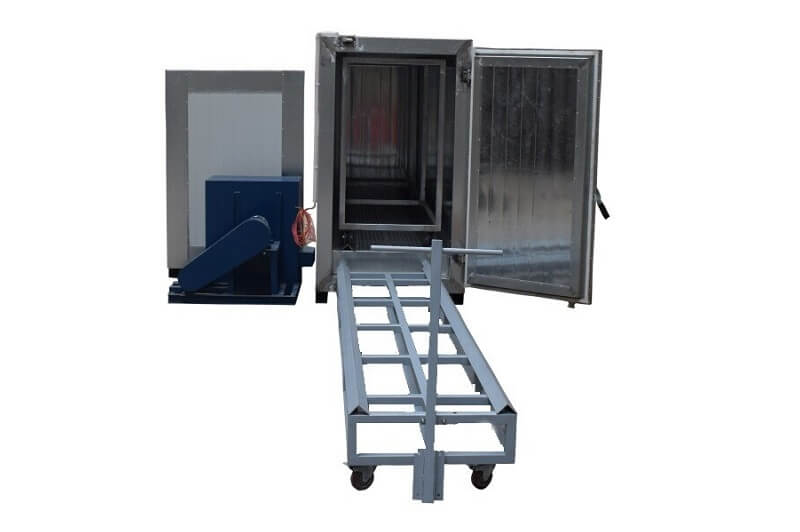 How does gas powder coating oven work?
The majority of the air is recirculated through the heat system, while a small amount of air is exhausted to the outside atmosphere to meet code requirements. For the indirect-fired heat system,the Italy Riello brand burner is fired into a Radiant Tube type heat exchanger, filter many of the combustible and toxic fumes produced with the heated air. then make the curing part clean. and high CFM recycling fan assure rapid temperature rise and consistent curing temperatures. This powder coating oven includes PLC controls to predict and adjust heat system performance.
Gas Powder Coating Oven Specifications
| Model | Colo-0813 |
| --- | --- |
| Worksize dimensions | Width800*Heght*1500*Depth3000mm |
| Overall Dimension | Width1200*Heght*1400*Depth3500mm |
| Power supply | Gas/LPG |
| Voltage/Frequency | 380V/220v(50-60hz) |
| Warm-up time | 15-30 min. (180° C) |
| Temperature stability | < ± 3-5°C |
| Temperature max. | 250° C |
| Ventilation Performance | 1131-25657m3/h |
| Burner | Italy Riello, 100,000cal |
| Motor power | 1.5kw |
| Circulation/ Air flow | Vertical ,Variable through holes on the walls |
| Transportation | Trolley |
| Warranty | 12 months |
A variety of standard models for choice, custom size and design also available
Model

Working Dimension

Buner Power

Voltage

Fan Motor Power

COLO-0813

Width800*Heght*1500*Depth3000mm

100,000Cal

220V/380V/415V

Customized

3kw, 1pcs

COLO-1732

Width1650*Heght*1700*Depth3200mm

100,000Cal

220V/380V/415V

Customized

4kw, 1pcs

COLO-3210

Width2000*Heght*1900*Depth3100mm

100,000Cal

220V/380V/415V

Customized

4kw, 1pcs

COLO-4772

Width1608*Heght*2060*Depth4797mm

200,000Cal

220V/380V/415V

Customized

5.5kw, 1pcs