CL-660 Electrostatic Powder Coating System Description:
1) 0-100 Digital adjustable KV, fully adjustable amperage
2) Pulse Power Technology for beating Faraday Cage Effect, able to cut Pulse Power on and off.
3) With three setting program,for flat shape workpiece,complicated shape workpiece,recoating,easy for operation.
4) Fully Adjustable Air for Pump on Pressure, Dosage and Nozzle Rinsing Air.
5) Ergonomic 100kv powerful spray gun, comes with Full Array of Nozzle Assortment.
6) Field Tested and Proven to operate in the toughest environments.
7) Flexible and easy-moving trolley, small dimension, save space.
Features of Electrostatic Powder Painting System
1) Excellent extraction rate, significantly reducing the amount of powder
2) One-touch buttons for quick get the best coating result for different complex shapes parts
3) New pulse plus the intelligent technologies generate static manner, maximizing the electrostatic effect
Control unit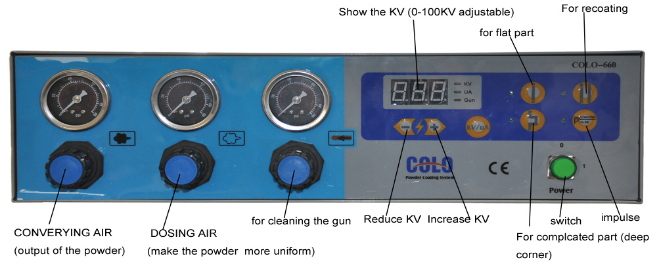 Back of control unit

How Does Electrostatic Powder Painting System Work?
.The fluidzed powder in the powder hopper is sucked up in the injector by the conveying air. Through the powder hose the powder air mixture reached the gun
.The powder is electrostatically charged immediately it reaches the gun nozzle.An intense field also exists between the gun nozzle and the grounded workpiece. The electrostatically charged powder sprayed onto the workpiece adheres to the latters surface.
.The conveying air and the dosing air is to be requlated on the control module, the fluidizing air on the peneumatic unit.
.The powder is fluidized by forcing air from blew through a porous plastic plate.