Diesel Fired Powder Coating Curing Oven
COLO diesel fired powder coating oven use an energy-efficient design that quickly raises to required heating temperature and provides uniform warmness throughout the oven for even curing, ensure no color difference. By using high quality circulation fan motor, 100mm thickness isolation board, Italy imported RIELLO burner and high quality stainless steel material heat exchanger, the cost-effective diesel curing furnace has much longer lifespan. COLO Powder Curing Oven is is designed for "batch" powder curing, and also can be used as a Dry-Off oven.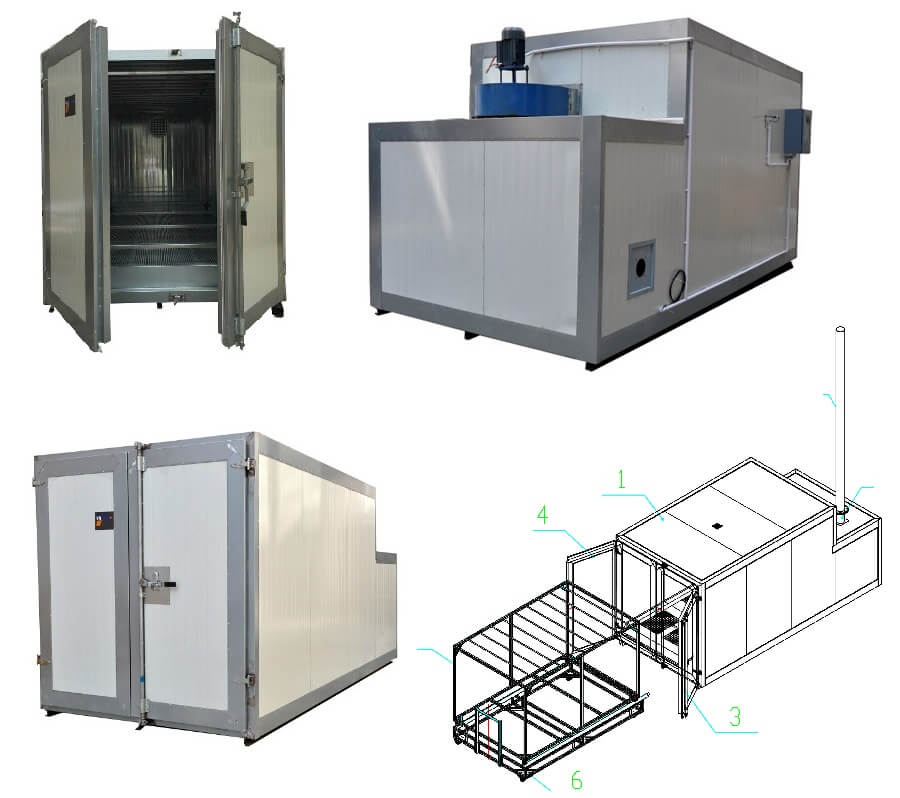 How does the diesel powder coating oven work?
The majority of the air is recirculated through the heat system, while a small amount of air is exhausted to the outside atmosphere to meet code requirements. For the indirect-fired heat system, the Italy Riello brand burner is fired into a Radiant Tube type heat exchanger , filter many of the combustible and toxic fumes produced with the heated air. then make the curing part clean. and high CFM recycling fan assure rapid temperature rise and consistent curing temperatures. This powder coating oven includes PLC controls to predict and adjust heat system performance.
Diesel Powder Coating Oven Components

Heat Exchange
Colo's Heat Exchange are designed for low capacity for long life, possess a large heat dissipation surface, more than 2 times greater than the traditional heat exchange side. The furnace is mounted on a length of more heat, it improves the temperature distribution and reduce the risk of failure. The air is distributed in advance specially calibrated mesh with both the walls and the floor. Heat exchange are installed in the ceiling, thus the width of the space-saving.

Forced air
Forced air circulation and floor, we can boast a very good temperature uniformity result, our research has shown that the uniformity of air temperature in the furnace of our circuit does not exceed ±3°C! The result is due to our technology of horizontal, and vertical air circulation, the circulation is chosen according to the process. Adjustable peaks on both walls allow to adjust the air supplied and the optimization process, this technology is only used for top furnaces around the world.

Thick insulation 100-150mm
Our walls are built with 1.5mm panels filled with 100-150mm thickness rock wool insulation, which helps keep the heat in the powder coating oven and out of your work area. .

Automatic control-simple PLC system
Control provides high precision heating process, it offers all the features you need. The LED display allows you to set the temperature, as well as the duration of heating process at the desired temperature.

Burner
Export into worldwide Italy imported burner.
Standard Models of Diesel Powder Coating Oven
Model

Working Dimension

Buner Power

Voltage

Fan Motor Power

COLO-0813

Width800*Heght*1500*Depth3000mm

100,000Cal

220V/380V/415V

Customized

2.2kw, 1pcs

COLO-1732

Width1650*Heght*1700*Depth3200mm

100,000Cal

220V/380V/415V

Customized

3kw, 1pcs

COLO-3210

Width2000*Heght*1900*Depth3100mm

100,000Cal

220V/380V/415V

Customized

3kw, 1pcs

COLO-4772

Width1608*Heght*2060*Depth4797mm

200,000Cal

220V/380V/415V

Customized

5.5kw, 1pcs