Powder Coating Booth Description
This booth is having side doors & article holding track entry & exit is from side through doors. By this way material handling is systematic i.e. from one side entry, coating & then exit from other side. If for spraying two side, could make 2 operation doors.
In exceptional case, if article is very long then a door can be kept open & coating is done step by step by moving article slowly. In this case recovery will be reduced.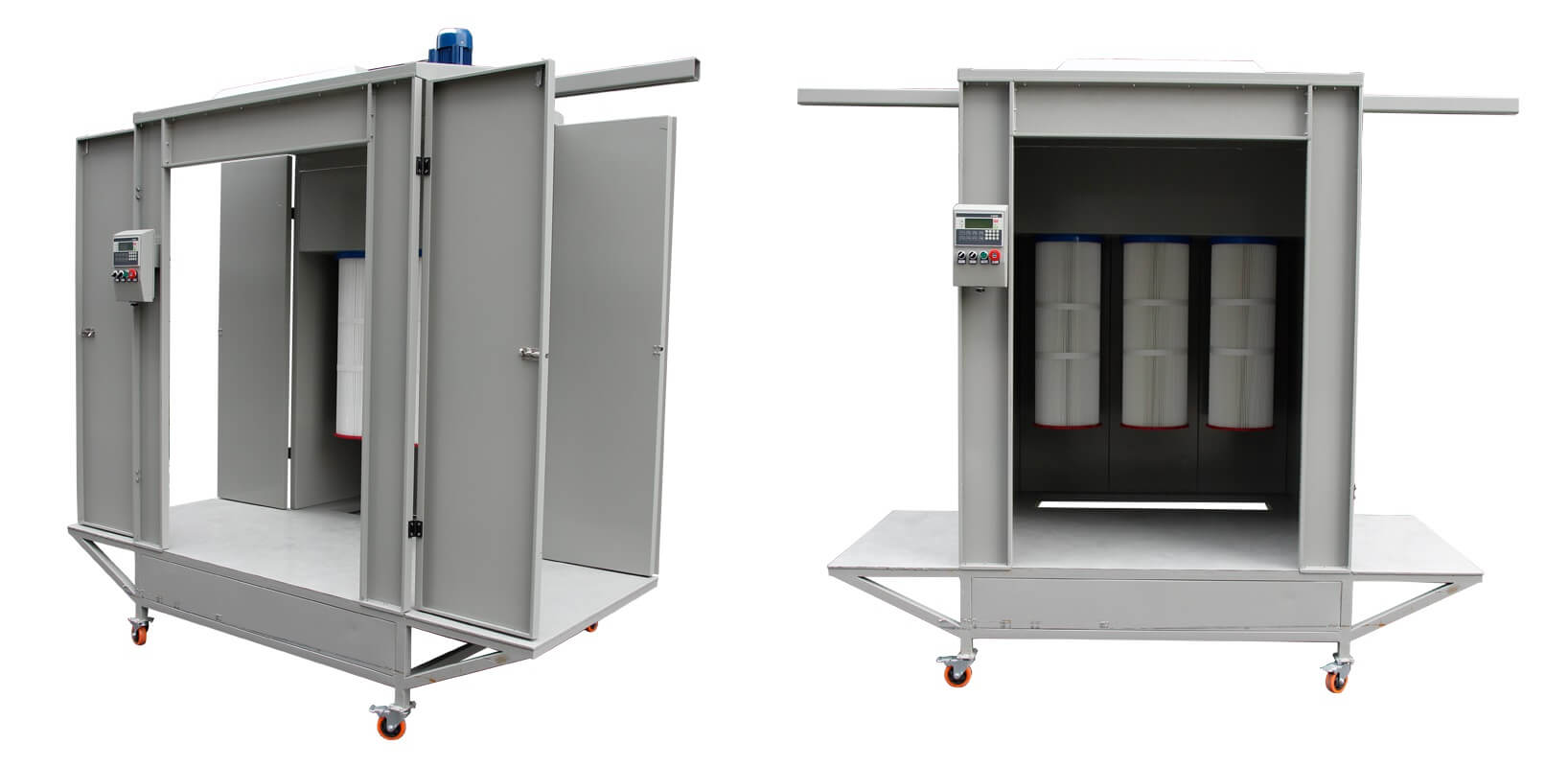 Powder spray booth Excellent Features
1.
Cartridge filter style powder coating booths
2. Low compressed air consumption and noise level
3. Good lighting system
4. Open design making cleaning a simple operation
5. Powerful extraction guarantees a safe and clean working environment
6. Booth with a two sides door, can be used in line coating
| | |
| --- | --- |
| Model | Colo-2152 |
| Booth Type | Closed-drive-thru |
| Operator dimensions | 1400widthx1800heightx1000depth |
| Overall dimensions | 2500widthx2300heightx1500depth |
| Power Supply | 380V(50-60HZ) |
| Nominal power | 3.5kw |
| Filters | Polyester |
| Filter Count | 2 |
| Filter Cleaning System | pneumatic |
| Machine Weight | 450kg |
| Warranty | 12 months |

100% Polyester filters
Colo's booths uses only the highest quality filters made from 100% polyester, they does not sink water, well separates the powder from the air. They can be washed with water under pressure, they provide long-term operation.

Automatic filter cleaning
Colo's cabins are equipped with an electronic automatic filter cleaning system. Booth has a adjusted range of cleaning interval, the time of the impulse, each filter is individually cleaned, filters can also be cleaned manually with buttons.

Fans
In Booths manufactured by Colo we use aluminium fans which are safe, doesn't cause sparks when rubbing by metal elements which in case of using metal fan can cause explode.
Because of their importance to save energy and consume small amounts of current. And they are very quiet, work at the level of 74-79dB. The motor is hidden in the Booth, which makes the Booth lower.

PLC Control unit
Colo's control unit have many program. Different bottom correspondence different function. Control the fan on/off, adjust time range of the pulse to cleaning filters, make the recovery powder hopper up and down.