Mono Cyclone Manual Powder Coating Spray Booth
COLO Mono cyclone manual powder spray booth power application system, used in manual coating line, it maximize efficiency by recycling powder during the color change, It improves quality, reduces downtime and ensures confident and consistent production.
Excellent Features of Colo Mono Cyclone Powder Spray Booth
1. Compact Modular design for most types of Spraying Application
2. Maximum utilization of powder, 98% high levels of powder recovery
4. Cyclone recovery and filters recovery of the powder make it very easy for cleaning and fast Color change.
5. Easy to integrate with powder coating machine and powder curing ovens
6. Complies with current health and safety legislation

Specification of Mono Cyclone Powder Spray Booth
| | |
| --- | --- |
| Booth Type | Mono-Cyclone |
| Power Supply | AC 380V |
| Frequency | 50-60 HZ |
| Power Consumption | 7.5 KW |
| Filters | Polyester |
| Filter Count | 9pcs,Efficient automatic separation |
| Filter Cleaning System | pneumatic |
| Machine Weight | 1000kg |
| Machine Size | 2m*3m*2m |
Manual Cyclone Powder Spray Booth Details
Two grade powder recovery System make make it high effective on powder recovery and powders will not be wasted.
1.The first stage recovery system is Cyclone, with 1 pc of mini cyclones, it use centrifugal force to seperator the powder which were mixed in the air.And the powder will drop into the bottom recovery tank.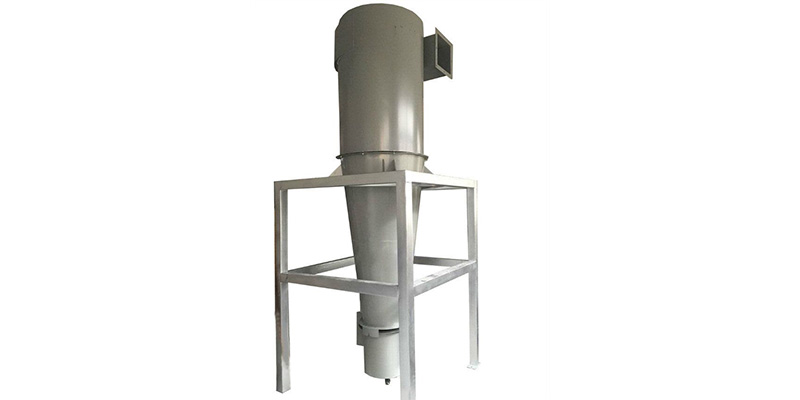 2. Some superfine powder will not be extracted in the cyclone, so we need the second stage recovery system, Filters Recovery, which will absorb the superfine powders.