COLO-1517 Manual Powder Coating Booth Description
The COLO-1517 powder spray booth is an economical solution for basic powder coating operations requiring reclaim capability in continuous production situations. COLO standardized produced powder coating booth features easy operation, compact structure, high performance. Include fans, motors, nut and bolt fasteners, filters, detailed drawings and instructions, all included in one single shipment.
Powder Coating Booth Application
For job shops, first-time powder coaters this manual powder spray booths offer a variety of applications, such as alloy wheels, automotive parts, bicycle frames, iron furniture, art crafts in small batches.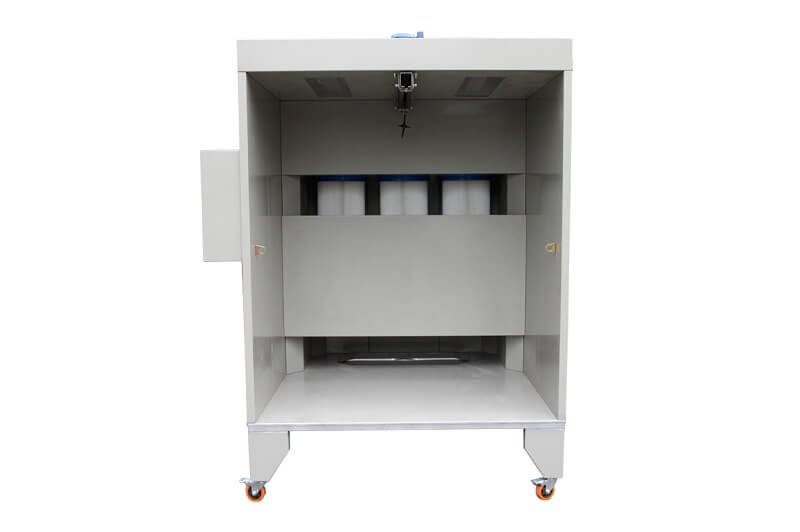 Powder Coating Paint Booth Features
1) Durable, long-life powder-coated steel structure with high-quality galvanized canopy and floor
2) Low-profile booth base eliminates operator fatigue
3) Requires only easy connection of electricity and pneumatic to start production after receive the equipment
4) During operation oversprayed powder accumulates on the cartridge filters. As the cartridge filters load, airflow decreases and the negative pressure rises within the air handler. A timer activates a system of air purging valves that clear the cartridge filters of the accumulated powder to ensure maximum filter life.
Powder Coating Booth Specifications
| | |
| --- | --- |
| Booth Type | Closed |
| Operator dimensions | 1500width*1000depth*1700mmHeight |
| Overall dimensions | 1600width*2000depth*2250mmHeight |
| Weight | 150kg |
| Power supply | Electric |
| Nominal power | 2.2kw |
| Voltage | 380V |
| Frequency | 50-60Hz |
| Filters | Polyester |
| Filters count | 3 (325*900) |
| Filters hang type | easy for change |
| Filter cleaning system | Pneumatic |
| Air consumption | 4000m3/h |
| Warranty | 12 months |
| model | Colo-1517 |
Powder Coating Booth Components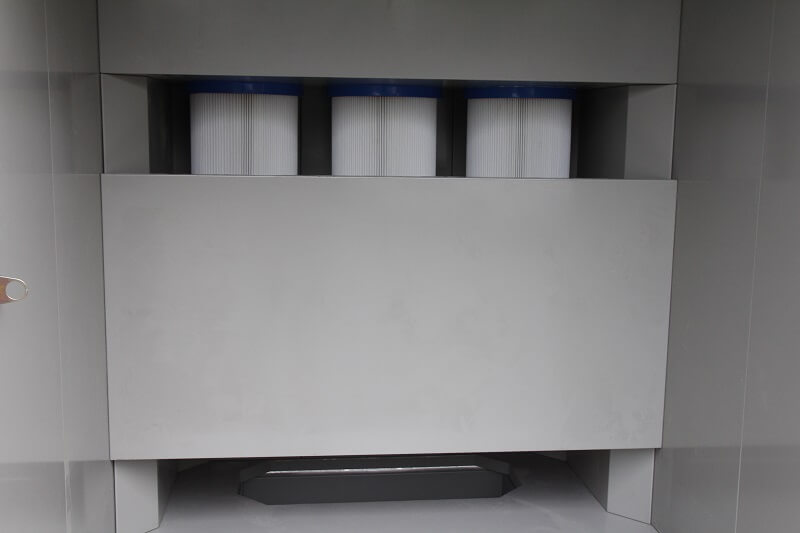 100% Polyester filters
Size: D325xH900mm per piece. Colo's booths uses only the highest quality filters made from 100% polyester, the filtration less than 0.1 micrometer, well separates the powder from the air. long lifespan. The cartridge filter is quick release type, easy to discharge when replace new ones and quick for color changes. Each filter is individually cleaned by controller though valves.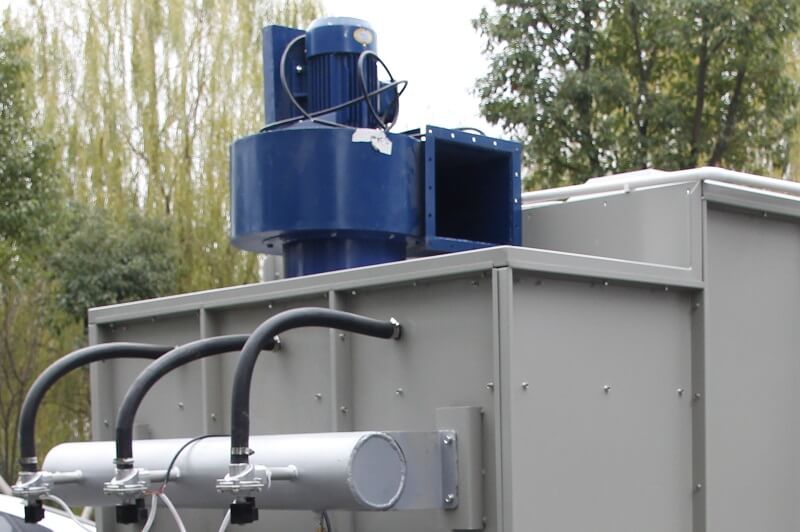 Fans
In Booths manufactured by Colo we use aluminium fans which are safe, doesn't cause sparks when rubbing by metal elements which in case of using metal fan can cause explode. Because of their importance to save energy and consume small amounts of current. And they are very quiet, work at the level of 74-79dB. The motor is hidden in the Booth, which makes the Booth lower.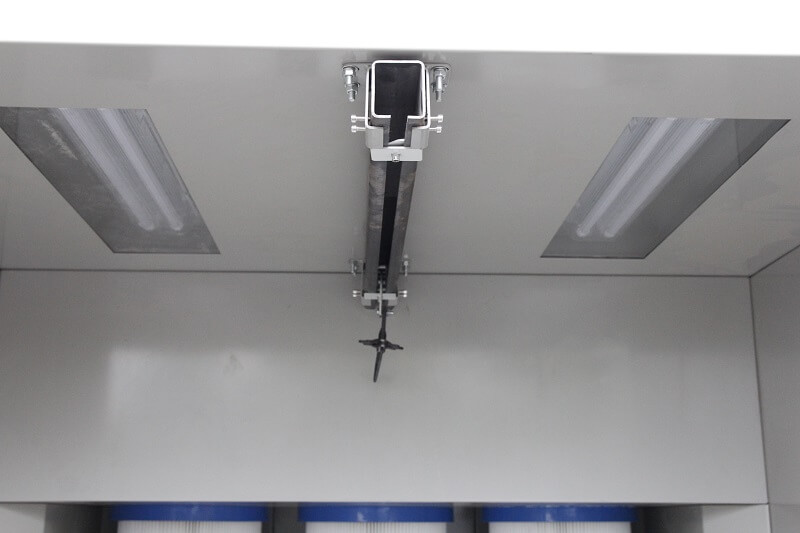 Light & Hanging
2 energy-saving lights overhead for better coating jobs, with rail and hangers for conveniently hang the workpieces.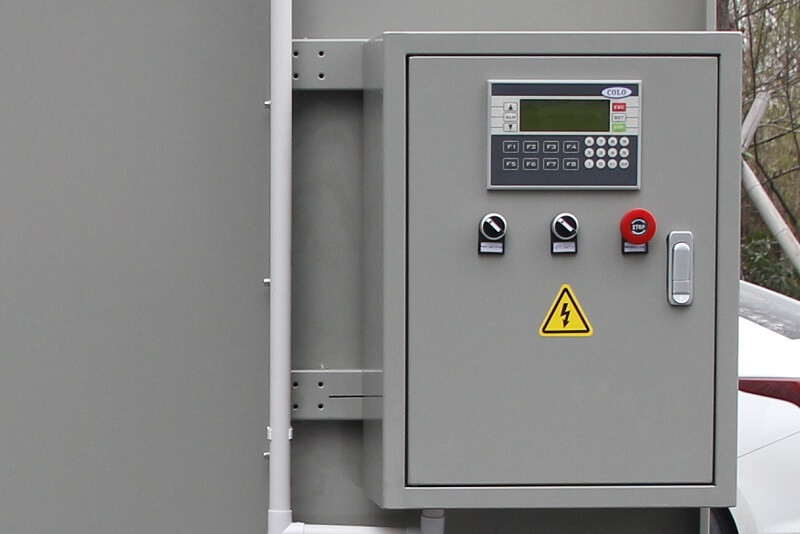 PLC Control unit
Colo's control unit have many program. Different bottom correspondence different function. Control the fan on/off, adjust time range of the pulse to cleaning filters, make the recovery powder hopper up and down.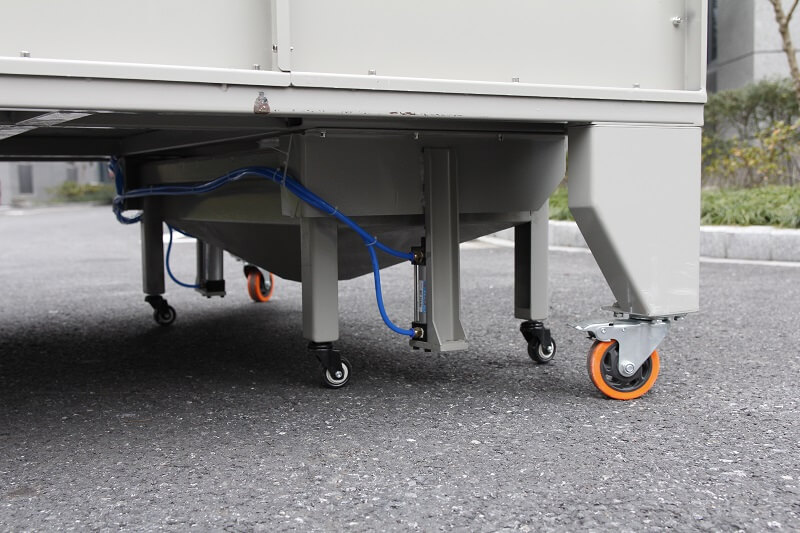 Powder Collector
There is a powder recovery hopper in the bottom that collects oversprayed powders, which can be took out when utilizing the powders.