Automatic Mono Cyclone Powder Coating Spray Booth
Mono cyclone powder spray booth is a fast color change powder coating booth. It improves quality, reduces downtime and maximizes your production, a necessary part in automatic powder coating line. The booth floor is made of durable composite material, and is automatically cleaned for no powder accumulation inside the booth.
Feature of mono cyclone powder coating booth
Ensure the highest color change quality in as short as 5 minutes, ensuring confident and consistent production. Manufactured from advanced materials and with a unique design the system features quick clean mono cyclones with direct operator access, Powder Feed Centre and an cartridge after filter that provides the containment airflow within the booth.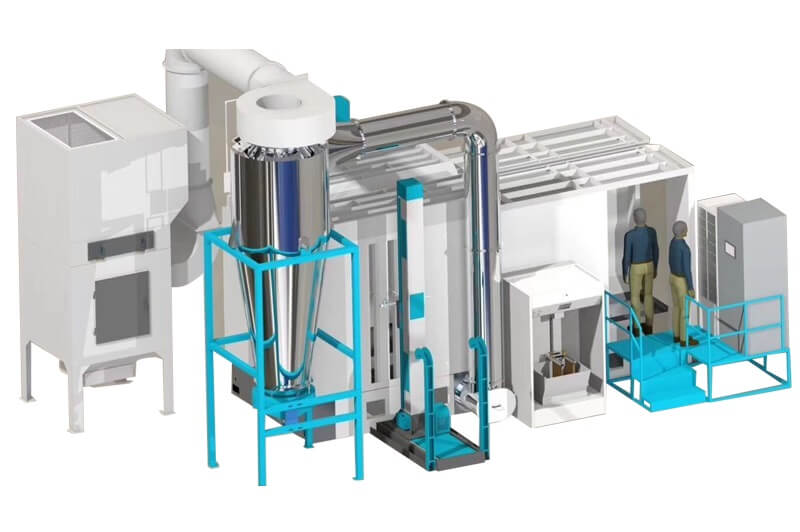 Highly efficient powder coating booth with mono cyclone powder recovery
1)Minimal powder in process at all times due to highest transfer efficiency and air clean system contributing to a clean, safe coating environment.
2)Unrestricted operator access around the product for manual touch up facilitates perfect results and simple, easy coating inspection
3)Air clean system continuously transports over sprayed powder from the booth floor, safely and quickly recycling it back to the powder feed container.
4) Safe and clean environment: No need for the operator to enter the booth
5) Maximize efficiency by recycling powder during the colour change
Designed specifically for the highest quality color change, this powder coating booth is configurable to your specific requirements. (customized booth dimension, air flow, coating station, etc)
Related Powder Coating Equipment
We design, manufacture, install the stainless steel powder coating cyclone booth for Philippine customer.